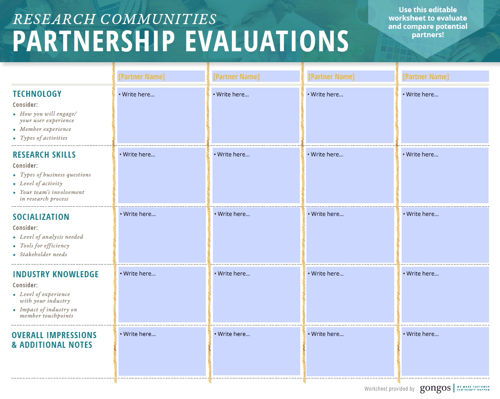 Research Communities Partner Evaluation Worksheet
Communities are cornerstone to a customer-centric organization. However, to realize their full potential, choosing the right partner is crucial. To help you on your journey, explore our worksheet designed to assess partners on key aspects of this decision.
Whether you are exploring a DIY solution or full-service partner, download this resource to keep track of your learnings along the way.
In this worksheet, you will explore partners across:
3
Socialization Capabilities

"Whether you refer to them as customer panels, advisory boards, co-creation groups or consumer labs— all are, in one form or another, a type of consumer community."
Consumer Village
"The Village" is a Gongos-owned and managed online consumer insights community, with thousands of active members nationwide. Consumer Village blends the entertaining nature of social media with the dynamics of research. Utilizing our proprietary Instinct™ platform, the Village provides an immersive experience for both in-depth qualitative and quantitative insight generation.