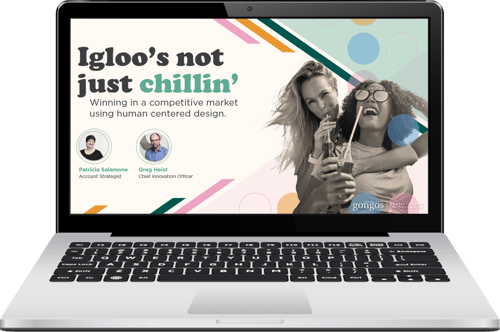 Winning in a competitive market using human-centered design
Learn how Igloo evolves from the cooler you grew up with to a household staple in a growingly competitive market. Complete the form to watch the on-demand webinar.
In this Q&A style webinar, Patricia Salamone, Account Strategist and Greg Heist, Chief Innovation Officer, dive into Igloo's evolution from their namesake 6-pack playmate cooler to the wider product line we now know from Igloo.
We focus on the exploratory work conducted with consumers and how this played a role in innovation and in-store experiences. Learn how human-centered design helped Igloo stretch their brand to be more than a nostalgic memory—and how those principles can be achieved at your organization.
In this webinar, you will learn how:
Igloo's leaning into post-covid lifestyles and tagging along with consumers
Evolved consumer experiences are impacting brands today


Nostalgic brands can stand out in a competitive market


Whatever Innovation means to you,
it starts with

Human Experience

.