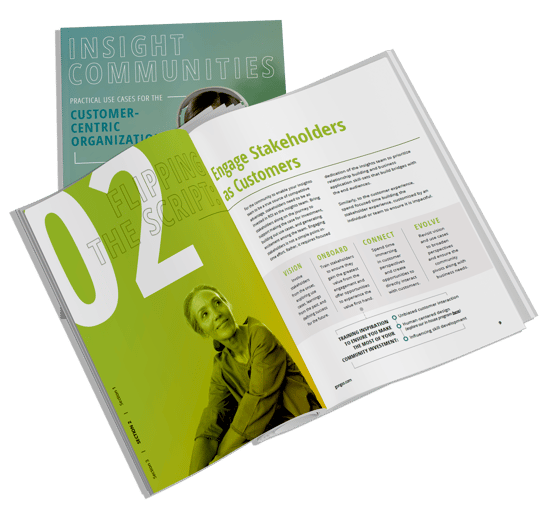 Practical use cases for the customer-centric organization
If your organization is on a journey to becoming more customer-centric, then it might be time to reflect on the partnerships and tools your organization is using to gain the greatest ROI on that effort. So many of the customer programs developed today focus on "listening," or fall into the rut of "ask/answer" insight generation.
Download the Insight Communities e-Book to learn how to shift your perspective and empower teams to take advantage of research communities.
In this e-Book, you will find:
1
A New Directive: Engage Customer as a Stakeholder

→ Mindset behind the philosophy

→ Framework for structuring strategy



2
Flipping the Script: Engage Stakeholder as a Customer
→ Internal team management & training

→ Communication & team transformation

→ Learning plan development
3
Team-Specific Community Use Cases & Stories to Inspire
→ Brand Strategy

→ Innovation & Product Development

→ Customer Experience


Get inspired with ways you can take a personalized approach towards integrating insights communities in your stakeholders' day-to-day.
Consumer Village
"The Village" is a Gongos-owned and managed online consumer insights community, with thousands of active members nationwide. Consumer Village blends the entertaining nature of social media with the dynamics of research. Utilizing our proprietary Instinct™ platform, the Village provides an immersive experience for both in-depth qualitative and quantitative insight generation.