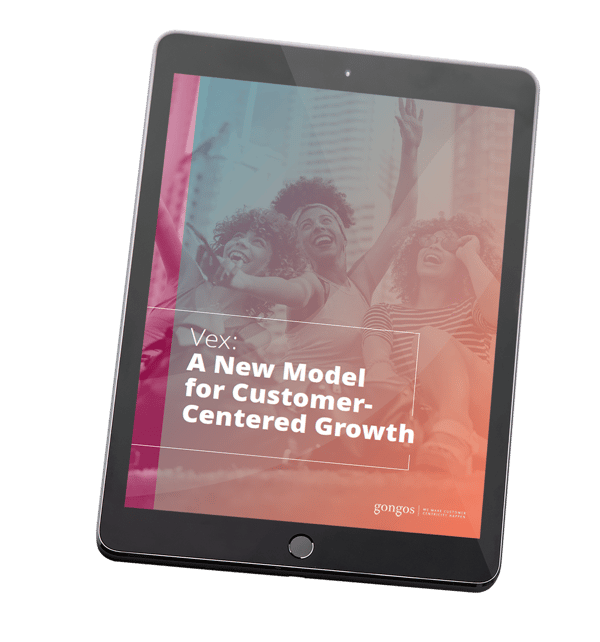 A New Model for Customer-Centered Growth
Submit your details below to download the whitepaper.
1
Beyond KPIs:
The Hidden Metrics
While customer-focused KPIs exist,
the vast majority of these metrics are not customer centric at all.


2
The Vex
Value Proposition
Identify new opportunities for growth, fuel the innovation pipeline, detect early signs of competitive and market threats.
3
Organizational
Use Cases
Learn how different job functions can utilize the Vex Model, from NPS and executive incentives to journey mapping—the Vex Model is relevant.
4
Mapping &
Validating CPIs
Our universal set of 15 CPIs were established through a three-step process. Let us show you the elements.
5
The Vex Model:
How it Works
The patent-pending Vex Model is comprised of three algorithms, all powered by machine learning.



6
Case Study:
From In-Store to Dot Com
CVS and Walgreens have articulated customer experience strategies, but what do consumers think? Learn what their CPI scores say.
7
The New
Status Quo
The path to business growth is paved through customer centricity. Organizations need to be in a position to move beyond legacy mindsets.

The path to business growth is paved through customer centricity.


Organizations today are learning to put the same discipline toward maximizing the value they deliver to
customers as they do towards reaping value from them, while understanding the relationship between the two.
Companies that strive to be customer centric will rise to challenge the status quo by incorporating
new metrics into their decision-making playbook—ones that are defined from the vantage point of the customer.
To be sure, CPIs are complementary and accretive to KPIs. Used in tandem, organizations will be in a position
to move beyond legacy mindsets that have curtailed business growth for years.
Case Study: The Burger Wars Unwrapped
Charbroiled, meatless, or not, these two behemoths offer up more than meets the eye when it comes to service. But beyond service—and the experience—adults and children alike flock to over 56,000 locations globally to fulfill on needs that are as universal as they are individual.
When it comes to our Customer Goals, McDonald's has the clear advantage over Burger King. And despite the fact that Burger King beat McDonald's to market with the Impossible Whopper, McDonald's has a 7-point advantage over its rival as it relates to providing its customers with options.
Value Exchange Model
Our patent-pending Value Exchange (Vex) Model utilizes Future Customer Value as a measure of growth, but can work in combination with most established customer KPIs to identify the strongest paths to customer-centered growth. Successfully vetted across 150+ companies across industries and sectors, it establishes a direct, numerical link between KPIs and Customer Performance Indicators (CPIs).
Future Customer Value measures share of wallet, frequency of purchase, and future purchase intent, and CPIs are the direct levers to achieve it.