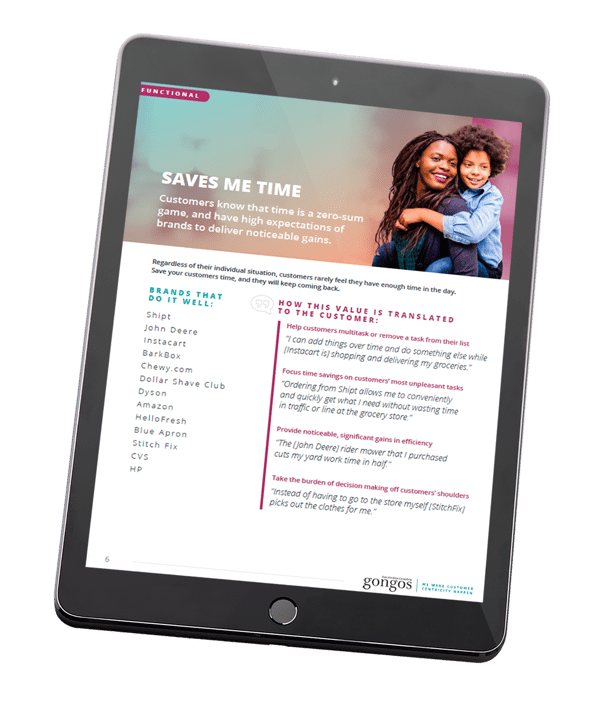 Learn from the best of the best. See how top brands help customers achieve their goals.
Creating true value exchange is a real thing, and it leads to real growth.

Customers' lives are a constellation of brand interactions, and they look across the aisle to determine who and why they want to do business with. That's why it pays to understand what other best-in-class brands are doing right.

Getting mired down by industry-specific customer goals has shortsighted executive decision making for years—don't let it sidetrack yours.

In this e-Book you'll get an in-depth look at how customers rely on leading brands across all categories to help them lead their best lives.
The Value Exchange Approach: At a Glance
1
CPIs:
The Customer Metrics
Customer Performance Indicators (CPIs) represent a universal set of functional, emotional, and social goals that customers desire when doing business with a brand.
2
FCV:
The Business Metric
Future Customer Value (FCV) represents the business KPI, comprised of Share of Wallet, Purchase Frequency, and Future Purchase Intent.
3
Vex Model:
The Quantifiable Link
Utilizing predictive, prescriptive, & diagnostic modeling, the Vex Model discovers the link between a brand's delivery on CPIs and FCV performance.
4
Vex Curve:
Growth Opportunity
The Vex Curve™ represents the growth potential for your brand. Small increases in your three most critical CPIs will drive revenue growth for your organization.
Drive Cross-Functional Impact
Product & Marketing | Inform messaging and innovation strategies to fuel your pipeline
Operations | Prioritize areas for value delivery improvements & initiatives based on relative impact on KPIs
Customer Experience | Extend CX strategy and experience management initiatives around what's most important
Finance | Identify near & far-term areas of investment to improve ROI
Case Study:
The Burger Wars Unwrapped
Charbroiled, meatless, or not, these two behemoths offer up more than meets the eye when it comes to service. But beyond service—and the experience—adults and children alike flock to over 56,000 locations globally to fulfill on needs that are as universal as they are individual.
When it comes to our Customer Goals, McDonald's has the clear advantage over Burger King. And despite the fact that Burger King beat McDonald's to market with the Impossible Whopper, McDonald's has a 7-point advantage over its rival as it relates to providing its customers with options.
Value Exchange Model
Our patent-pending Value Exchange (Vex) Model utilizes Future Customer Value as a measure of growth, but can work in combination with most established customer KPIs to identify the strongest paths to customer-centered growth. Successfully vetted across 150+ companies across industries and sectors, it establishes a direct, numerical link between KPIs and Customer Performance Indicators (CPIs).
Future Customer Value measures share of wallet, frequency of purchase, and future purchase intent, and CPIs are the direct levers to achieve it.